Vadym Kholodenko has emerged as one of the most musically dynamic and technically gifted performers of his generation, heralded for interpretations that are "impeccable, tasteful and vibrant, and also something more: imaginative" (Cleveland Plain Dealer). Winner of the coveted gold medal and all special prizes at the Fourteenth Van Cliburn International Piano Competition in 2013, he is forging an international career throughout Europe, Asia, and North America to great acclaim.
The 2016–2017 season finds Mr. Kholodenko concluding his three-year artistic partnership with the Fort Worth Symphony Orchestra, which includes live recordings of the complete Prokofiev piano concertos released by harmonia mundi, in addition to chamber projects and other concerto performances. This season will also be highlighted by London appearances at the LSO St. Luke's and with the Royal Philharmonic Orchestra, performances of the Scriabin Piano Concerto with the Orquesta Sinfonica de RTVE in Madrid, and a tour of Asia with appearances in Tokyo, Kuala Lumpur, and Beijing. In the United States, he will make his Washington, D.C. recital debut at the Phillips Collection.
Mr. Kholodenko has collaborated with distinguished conductors including Leonard Slatkin, Miguel Harth-Bedoya, Yuri Bashmet, Carl St. Clair, Vladimir Spivakov, Valdimir Fedoseyev, and Cristian Mecalaru. In North America, he has appeared with the Atlanta, Indianapolis, Philadelphia, and San Diego Symphony Orchestras, among others, and traveled extensively across the United States for solo recitals. Internationally, he has performed with the orchestras of BBC Scottish, Kristiansand, Malmö, Madrid RTVE, Qatar, Norwegian Radio, and Sydney, and made recital debuts in Paris, Lucerne, Singapore, Budapest, Porto, and appeared throughout Germany, Italy, the United Kingdom, and Japan. In 2013, he held a residency at the Mariinsky Concert Hall where he was named artist of the month by Valery Gergiev. Festival appearances include the Aspen Summer Music, Brevard Music Center, Flâneries Musicales de Reims, Pharos Chamber Music, Stars of the White Nights, and Festival del Sole.
A committed chamber musician, Mr. Kholodenko took home the 2013 Cliburn prize for best performance of a piano quintet with the Brentano Quartet. He has also collaborated with the Enso Quartet, violinists Vadim Repin and Alena Baeva, and cellist Alexander Buzlov. Also interested in composing, he performed a stunning cadenza in Mozart's Concerto No. 21 in C Major, K. 467 during the Cliburn Competition's Final Round—which he composed himself on the plane from Moscow to the Competition in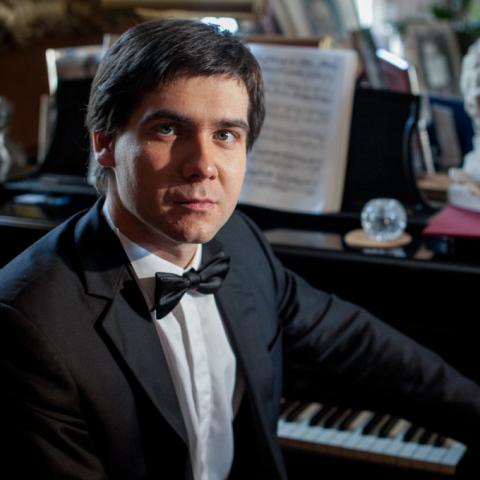 Represented by YH Artists in the following territories:
China, Hong Kong, Macau, Taiwan, Korea