A leading Chinese composer described as a "master of orchestration" (The Telegraph), Qigang Chen possesses a unique voice which fuses Chinese and western classical traditions throughout his works. In 1984, Olivier Messiaen re-emerged from retirement solely to accept Chen as his last student for four years. Chen's works have been premiered across the world by celebrated artists such as Yo-Yo Ma, Lang Lang, Charles Dutoit, Alan Gilbert, Lorin Maazel, Leonard Slatkin, Maxim Vengerov, Jean-Yves Thibaudet, Daniel Harding, Michael Tilson Thomas, Sir Roger Norrington, Myung-Whun Chung, Gautier Capuçon, Edo de Waart, Alison Balsom, and leading orchestras and festivals including the BBC Proms, Orchestre National de France, Orchestre Philharmonique de Radio France, London Symphony Orchestra, Royal Liverpool Philharmonic, BBC National Orchestra of Wales, Orchestre National du Capitol de Toulouse, Munich Philharmonic Orchestra, Hong Kong Philharmonic, Melbourne Symphony Orchestra, Sydney Symphony Orchestra, Stuttgart Radio Symphony Orchestra, Shanghai Symphony Orchestra, Orchestre Symphonique de Montreal, Taiwan Philharmonic, Orchestra of Florenza May Opera, and Beijing Music Festival. His works span many genres including symphonic, chamber, concerto, voice and orchestra, ballet, film, and songs.
Coming from an intellectual and artistic family, Chen began his musical studies as a child. During the Cultural Revolution, Chen, a teenager at the time, spent three years locked up in a barracks, undergoing an "ideological reeducation." His passion for music remained unshakeable and, in spite of the social pressure and anti-cultural policy, he pursued his training in composition. In 1977, just after the end of the Cultural Revolution, Qigang Chen was one of twenty-six candidates out of two thousand to be accepted into the composition class at the Beijing Central Conservatory. After five years of studies with Luo Zhongrong, in 1983 he won a national competition which allowed him to go abroad to pursue graduate studies in composition. This led him to France where his scope of culture was broadened and he acquired new knowledge about 20th-century music, in part by studying with Olivier Messiaen.
Chen entered the international spotlight in 2001 when his orchestral work Wu Xing was selected from over one thousand entries as one of the five finalists of BBC's Masterprize Award. In 2003, EMI/Virgin Classics released an album devoted to his music, including the highly-acclaimed work Iris devoilée. It was later voted by Gramophone as one of the Top Ten Classical Recordings of the Month. Two years later Chen was awarded the Grand Prix de la Musique Symphonique by SACEM in recognition of his promising career. He was decorated with Chevalier de l'Ordre des arts et des lettres by the French government in 2012. At home, Chen was elected 'World's Best Classical Musician in the Chinese Language' by the Chinese press in 2004 and 2012. And, in 2014, he won the Golden Horse Award for Best Original Film Score – performed by Lang Lang – for Coming Home.
Chen was honored to act as the Music Director of the Opening Ceremony of the 2008 Olympic Games in Beijing, and his composition, You and Me, was selected as the Olympic theme song for that year.
His heartfelt violin concerto, "La Joie de la souffrance" ("The Joy of Suffering") – premiered by Maxim Vengerov, the China Philharmonic Orchestra, and Maestro Long Yu at the 2017 Beijing Music Festival – was chosen as the work to be performed by all finalists at the 2018 Shanghai Isaac Stern International Violin Competition. Chen composed the concerto in the aftermath of the untimely and tragic death of his only son in a car accident.
A strong advocate of musical education, in 2015 Chen launched a composition workshop at Gonggeng College in China, as a platform for dialogues with young musicians.
Chen's works are published by Boosey & Hawkes (2008-now), Durand Editions Musicales (Ballet music), and Gérard Billaudot Editeur (1985- 2008).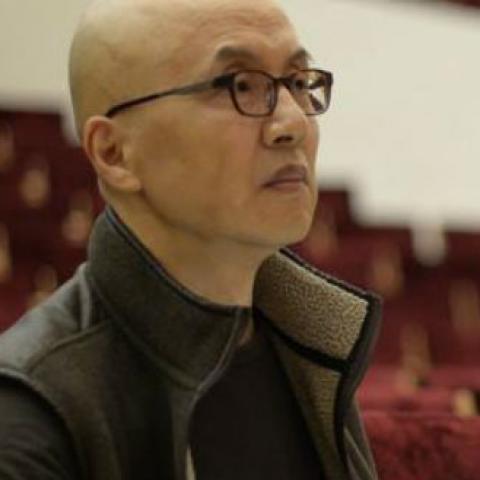 Represented by YH Artists in the following territories: