Peter and the Wolf in Hollywood is a new creation by critically acclaimed Brooklyn-based production company  Giants Are Small, giving an invigorating new perspective on Prokofiev's classic. The live production is an unforgettable journey of classical music and visual wonder, featuring a live narrator and percussionist creating all the sound effects on stage. Co-directed by Doug Fitch and Edouard Getaz, the production is based on the award-winning app and album co-produced by Deutsche Grammophon, featuring Alice Cooper as narrator.
Prokofiev's tale is set in modern-day Los Angeles and anchored with a thrilling prequel that is set off when the wolf escapes from the local zoo. Peter is swept up in an exciting adventure that includes the building of a giant robot, a whirlwind helicopter chase, and a moment of poignant introspection – all before he enters the forbidden meadow where he finally captures the wolf.
The prequel features excerpts of some of the greatest classical music ever written and leads seamlessly into Prokofiev's complete original score.
Everything is Handmade
All the artwork was handmade in Brooklyn by a dedicated team of artists and craftspeople. Over 18 months of designing and building using cardboard, paint and magic markers (among other materials!) went into creating our miniature world of Hollywood. Then everything was photographed and animated to create every frame of video in the moviebook.
A Treasury of Great Music
Composers featured include: Prokofiev, Wagner, Schumann, Mahler, Puccini, Smetana, Elgar, Mussorgsky, Grieg, Dukas, Satie, and Zemlinsky.
An Old-World Tale, Imagined for Today
Set in modern-day Los Angeles, Peter and the Wolf in Hollywood begins with the wolf's escape from the local zoo. To capture the wolf, Peter must build a robot, maneuver his way through a thrilling helicopter chase, and manage some hilarious encounters with several adorably quirky animals. Will he be able to complete the mission? Find out how Prokofiev's children classic follows after a thrilling prequel.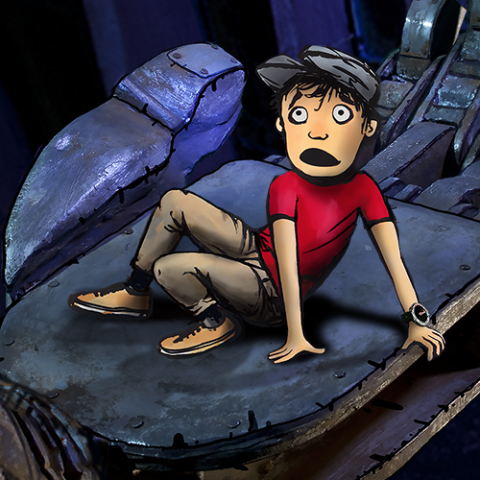 Peter and the Wolf in Hollywood